HISTORY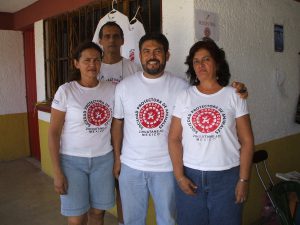 In 1982, our founder, Helene Krebs, upon seeing conditions of animals in Zihuatanejo, began a small refuge center using her own funds to help unprotected animals. Through the years, an association grew and implemented various programs. Today, it is directed by her grown children and includes a group of active collaborators.
The Humane Society of Zihuatanejo (Sociedad Protectora de Animales de Zihuatanejo "Helene Krebs Posse" A.C.) is a registered non-profit association maintained by donations without any public or private funding.
Become part of us by helping to make a difference. We are located at the Casa Marina, at the municipal basketball court in front of the main beach. We're open 9 a.m.-2 p.m. and 4-7 p.m., Monday through Saturday.
UNA HISTORIA
En 1982 nuestra fundadora, la Sra. Helene Krebs al ver las condiciones de los animales en Zihuatanejo decide iniciar y mantener con sus propios recursos un pequeño refugio para ayudar a los animales desprotegidos. A lo largo del tiempo la asociación ha crecido e incrementado sus programas, hoy en día continúa bajo la dirección de sus hijos y de un grupo de colaboradores activos.
La Sociedad Protectora de Animales de Zihuatanejo "Helene Krebs Posse" A.C. somos una asociación sin ánimo de lucro registrada formalmente. Nos mantenemos únicamente a base de donativos y no contamos con apoyo de ningún tipo de institución pública o privada.
Acércate para formar parte de esta labor y ayúdanos a hacer la diferencia. Estamos en Casa Marina, a un costado de la cancha municipal, frente a la Playa Principal. Nuestros horarios de atención son de 9-2 y de 4-7 de lunes a sábado.